Liverpool 2008 Info Bus
The alarm rings!!! I have to wake up! Not good… it's too early but errands have to be done on my day off! I still wanna stay in bed… No no no there are things to be done! Come on wake up! No excuses! It's a cold windy morning and yeah above all it starts raining! My friend and I, apart from the frustration to get everything done on time, just got soaked too! So we keep walking, all wet, through the grey streets of Liverpool City Center. And here it is! A colorful crazy bus in the middle of Williamson Square! How could someone resist to its bright view and the sign calling you to get on board?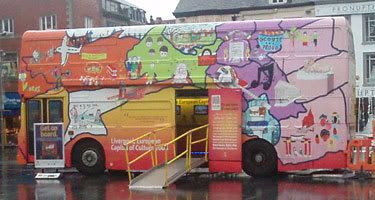 I surly could not and neither could my friend.
Going closer I noticed that all these bright colors I could see from distance where childlike designs describing the most characteristic things about Liverpool. A traditional British bus was transformed to a joyful stall! Reading the sign I found out that that was an information kiosk for Liverpool Capital of Culture 2008. All excited and curious we got on board.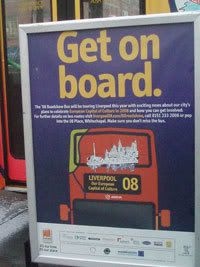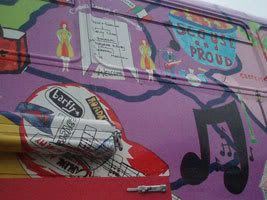 Getting inside we faced a nice warm yellow room with a help desk full of brochures and booklets on the right. Straight in front of us there were two screen sets connected with head phones and a cute little device in front of them. It reminded me of baby toys with nice big rolling buttons and bright colors as well as a gaming console joystick. And yeah that was a navigation device! The yellow rolling surface was moving the cursor around and the blue round buttons on the sides were working exactly how the right and the left click work on a regular mouse. Easy to use as you connecting it naturally with similar previous experiences and I am sure very appealing to the younger ages that visit the kiosk very often as we were informed later from the staff. I, also, noticed an older age lady, who seemed not that familiar with technology, how easy was able to navigate by touching clicking and rolling this intuitive device. That's is a very important element based on the puprose of this installation. An information kiosk is visited from a big range of ages, cultures and backgrounds as it helds a tourist and educational role at the same time. Thus, it is essential to design it approchable and understandable for a large target audience.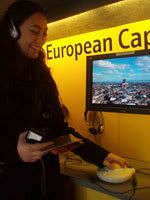 More and more excited, we are still exploring the space; more brochures on the back nicely placed on wall holders and one more screen playing videos. Through a stairway you can go up where there are more screen sets. After walking around the spaces we put on the head phones and dive into the screen displays.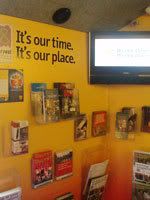 A very nice minimal designed menu helps you to navigate to different information pages or videos. Everything follows the same design logic; colorful, fresh, enjoyable and easy to navigate. I was amazed by the transition animations from one section to the other made from cut-off paper child drawings. The sound, the motion and the typography, all the design assets combined with one common goal; to entertain and to inform the visitor about the history of Liverpool and all the exciting events coming up! The entire environment and feeling easily infects the audience with excitement and expectations for all the events coming up in Liverpool 2008 Culture Capital!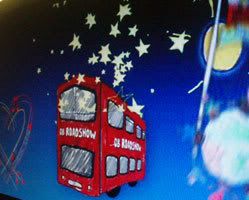 We left the kiosk packed with brochures and leaflets, a big smile on our faces, a DVD visitor souvenir with the history of Liverpool and … a loud "I can't wait!"! No doubts that this interactive experience was worthwhile, well designed and successful for the purposed that it was set up.
Post's featured image by salsachica.Edited by dRuantia design.