The history of Liverpool in three screens
Visiting Maritime Museum I had the chance to experience an interactive narration on Liverpool's history. This installation is a part of the current exhibition – interestingly named "magical History Tour". It is my opinion that this installation serves exactly that purpose by embarking with the audience on a magical tour through Liverpool's history.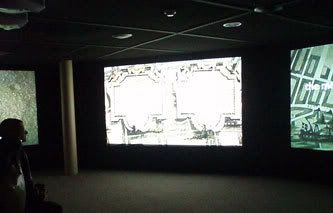 To provide that feeling to the audience the installation is set up in a small dark, polygonal room where 3 big screens are embedded on the black walls, one next to each other, with a small space between each of them (see 1st picture).This isolated, dark background further enhances the shows's pieces and captivates the viewer.
It includes audio and video narrations. While a narrator – backed by an atmospheric soundtrack – familiarizes the audience with the city's past, a video is presented on the screens. The graphics, continuing from one screen to the other, provide a 3d perspective that embraces the audience and references the historical journey that is the presentation's main goal.
The visuals that refer to the past contain still images – mostly sketches from old books, as there are no video resources from that time. Although a slide show might have been expected, the way the screens are set up enables the smooth movement of video from one panel to the next – effectively creating a virtual world, an effect that is further complimented by the combination of graphics in different levels. You can almost smell the old leatherbound tomes in the videos and pictures as you are further immersed in the story. Going further to the story the graphics keep that "scanned-in old resources" look and feel combined with videos and pictures.
Helpful, easy-to-read text is plentiful and further informs the viewer while keeping up with the presentation's lively motion. The most important things, quotes and dates of narration are also pointed out in that way.
Thus, the audience is experiencing the city's growth from a tiny fishing village to a busy port learning about the evolution of the settlement from its earliest pre-historic roots and examining life in the medieval and early modern town before the port's emergence as a Victorian metropolis of global significance.
As described in "Understanding Hypermedia 2000", good design is a result of the following factors:
a. To meet the needs of the target audience
b. To be appropriate for it's purpose
c. To attract the audience
d. To work well.
Based on all of the above, this Maritime Museum Installation is an example of great design. A very well made combination of audio and visual assets provide the audience with that "magical history trip" feel, as stated in the title of the exhibition and also serve their educational goal as a historical installation for the museum.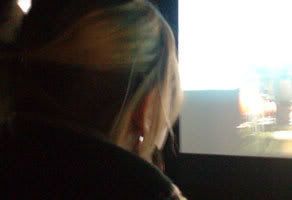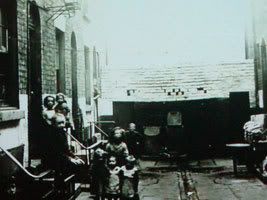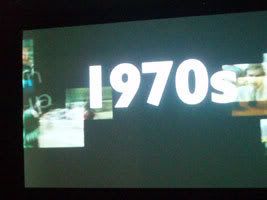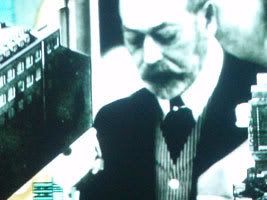 Post's featured image by salsachica. Edited by dRuantia design.