Ashes and snow
Ashes and snow is an art project made by Leo Burnett. The artist was introduced to me by my friend Kyriaki. This particular project is very well presented in an interactive web site using up-to date technology managing to pass the sense of it to every possible web user. After exploring this web site and experiencing his work I became a huge fun of his art.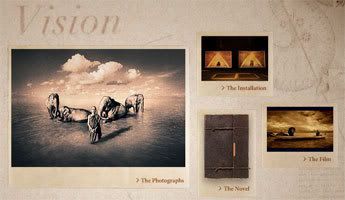 In exploring the share language and poetic sensibilities of animals, Leo Burnett, in this project, is working towards rediscovering the common ground that once existed when people lived in harmony with animals. The images depict a world that is without beginning or end, here or there, past or present. To give a full perspective to his concept, the artist uses multiple techniques such us photography (photo manipulations), filming , installations based on space and light and written narrative. Even the animations and the music of the web site add to the whole atmosphere that the artist wants to pass to the audience. I believe such artists should be an inspiration to us, as multimedia designers, because they extent all the possibilities and platforms with innovative ideas to make the viewers live a strong experience from their art.
Post's featured image by Lenscap. Edited by dRuantia design.